Our network supports publishers of all shapes and sizes
Content & Influencers
Get your affiliate marketing strategy off the ground – today – with ShareASale. Our easy-to-use platform allows all types of content creators to monetize their website or platform by partnering with their favorite brands.
Loyalty & Incentive Sites
Grow your membership program by partnering with top brands on ShareASale and giving back to your members based on their purchases made through affiliate links on your site.
Media Partners
Use our platform to find, manage and build relevant brand partnerships. Track your campaign performance through our transparent and robust reporting. Tap into a new source of revenue through our vast network of top brands.
Technology Solutions
Deliver top-notch affiliate marketing tools and technology to effortlessly help your network of affiliates, bloggers, vloggers, podcasters, influencers, or website owners monetize their platforms.
Discover the right partnerships
With so many retail programs to choose from, the concept of finding the right one can be daunting! Our merchant search experience is designed to help you easily and intuitively identify and join relevant programs through various filters, popular search options, and a marketing calendar for upcoming holidays or seasonal events.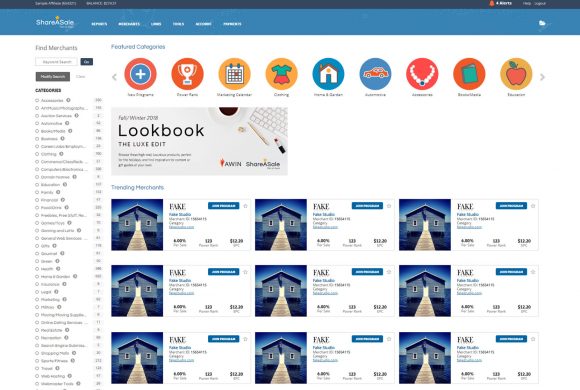 Transparent and intuitive reporting
Our robust reporting provides insight into all possible information you'd like to track for your affiliate efforts. Discover which merchants are performing best, easily find and replace broken links, and create tracking of your own with aff-tracking for additional insight.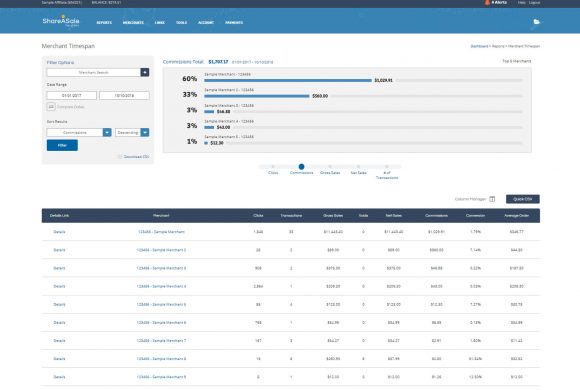 Sign up and build your program
1
Join merchant programs
With over 260 new programs launching each month, you will find every type of merchant from household brands to niche retailers.
2
Promote & publish
Use our content tools or product discovery bookmarklet to find and promote the products you love and use every day.
3
Engage & monetize
Build long-lasting partnerships with retailers on our network and watch your income grow.
Partner with leading brands on our network
Solutions

Tools

Payments

Support
Join for free and partner with brands you love
Whether you are a traditional affiliate, blogger, vlogger, podcaster, influencer, or website owner looking to tap into new sources of revenue, ShareASale is your solution. We help publishers like you find relevant retailer partners to promote, track which transactions earn commissions, provide easy-to-interpret reporting, and most importantly, pay out your earnings on time each month.
Search our database of brands to partner with, representing over 39 consumer categories
With our real-time reporting, know the moment a banner is clicked, a sale is made, and a commission is generated
Use our custom affiliate tools to promote partners in easy and unique ways
Receive superior customer service by real people on our expert publisher management team
Customer-centric approach
Customer-centric approach
Maximize your affiliate efforts with our user-friendly tools
Our network provides custom tools to help you promote brands and products more effectively and convert sales faster. Each feature has been created for you and by you. We listen to the requests of our clients and develop tools to combat the changing needs of the industry. No matter your publisher type, become a ShareASale affiliate today and find the right tools to drive conversions and propel even the most difficult partnerships to success.
Receive fast and consistent payments
For all your promotional efforts through ShareASale, rest assured we securely track which transactions earned you commissions and send you one combined payment each month. Our trusted network provides easy-to-read reporting that displays exactly how much you can expect to be paid based on your performance.
Choose from a variety of ways to receive your payments on time each month, including check, direct deposit, and ACH
Get a snapshot of your current account balance immediately on your affiliate dashboard
See a detailed status of your funds, as well as which campaigns drove the most transactions, with our comprehensive selection of reporting tools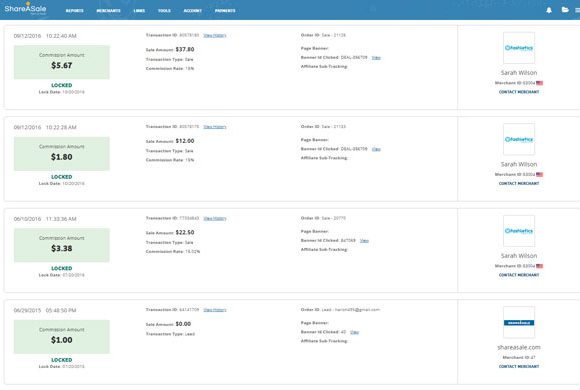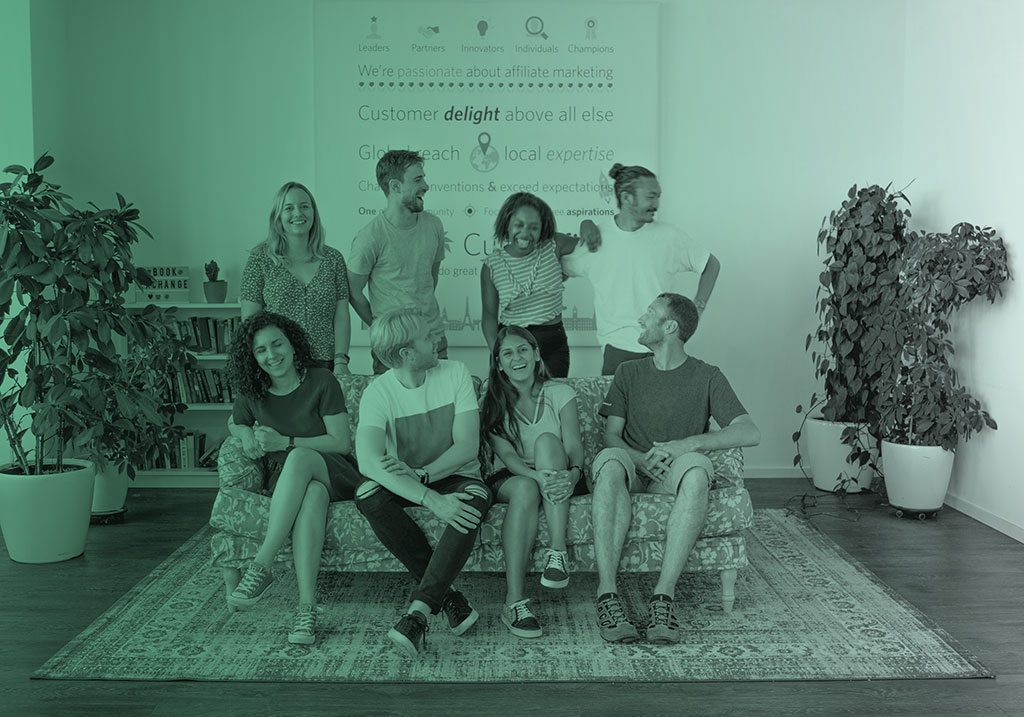 Contact our expert publisher management team
ShareASale operates under a customer-first mentality and we are always prepared to go the extra mile for our clients. We operate a joint Awin and ShareASale publisher management team who can coordinate support across both trusted networks. These team members are experts in the local market and can offer insights and assistance for any affiliate request or question.
Speak with real people who provide real solutions
Contact us around the clock through our email support system
Expect consistent and reliable service with timely responses
Gain instant (and free!) access to training webinars and resources