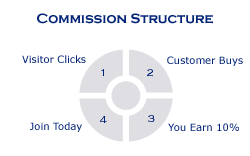 W H Y J O I N ?
If you manage or own a website, you can become part of HansonEllis.com affiliate network. By partnering with us, you'll earn up to 10% commissions on every purchase we track from your site. You will add value to your own site by offering unique wedding favors for your visitors. Note: Coupon sites earn 2% commission.

H O W D O Y O U B E N E F I T S ?
— Earn up to 10% commission from sales generated by your site.
— It is FREE to join HansonEllis.com Affiliate Program.
— Add value to your site by enhancing your users' experience online.
— Add content with valuable information about wedding HansonEllis.com events..

E X A M P L E O R D E R
Customer makes 1 order for $300.00.
Order is tracked to our Affiliate Network and is processed into your account.
You make $30.00 on the sell.

H O W I T W O R K S
Becoming a member of our team means that you are able to place links on your site that direct visitors to HansonEllis.com. We will provide you with banner graphics and text links in your own administration control panel. When your commission adds up to $50.00, we will send you a check. If you would like to add product links to your website, please email partner@hansonellis.com and let us know which product links you would like us to create. It's that EASY!

G E T S T A R T E D
Getting started is very easy. Simply fill out the online registration form and you are ready to start immediately..