Start making money with Corporate Housing by Owner (CHBO)
Corporate Housing by Owner or CHBO as we call it has teamed up with ShareASale.com to offer a simple affiliate signup process. That way you can begin earning commission payments from your website as soon as possible. Watch the video below to learn more about CHBO below and continue to the Affiliate Signup Process to get started. If you have any questions about the program, please contact us. If you have questions, please call Jeremy Blackburn at 504.708.2223 or Email CHBO
 
What is Corporate Housing by Owner (CHBO)?
CHBO is an advertising outlet for rental property owners or property managers wanting to market to their for-rent properties to companies and traveling professionals. We advertise any type of rental residential property available worldwide to travelers in need of short-term housing. Most of the housing offered on CHBO is fully-furnished executive rentals, although some properties are only partially furnished or not furnished at all. Tenants rent the property directly from the person managing the property or the owner - CHBO simply helps make the direct connection. Please view our website for our pricing details to advertise. CHBO is in huge demand for more inventory worldwide. Promote CHBO and attract anyone looking to advertise a rental for corporate housing.

For each person who lists their property with CHBO, we offer a 15% commission of the total sale (Bronze Listing Package starts at $339). In other words, if your referral lists their rental property with CHBO, you get paid. If you have questions, please call Jeremy Blackburn at 504.708.2223, Email CHBO or Schedule A Call.

The success of individual property owners is very important to us!
To help give you peace of mind in CHBO and to demonstrate our belief in the high caliber of our leads, CHBO guarantees that you will rent your property within 30 days from the time you purchase your listing. If you are unable to rent your property within 30 days, CHBO will extend your annual listing an additional six months for free from your current expiration date. Your clients are in good hands. Thank you for your referrals.

Here are the details about how our commission breakdown works. For each sale referred to CHBO, we offer a 15% commission of the total sale.
 
Questions? Contact Corporate Housing by Owner (CHBO)
For questions, please call the affiliate manager, Jeremy Blackburn at 504.708.2223 or Email CHBO. More banners can be made on demand, email us. Fill out the form below to get started.
 
Banner Ad Examples you can use to promote CHBO
Below are some sample ads you can download. If you would like CHBO to create custom sizes, let us know.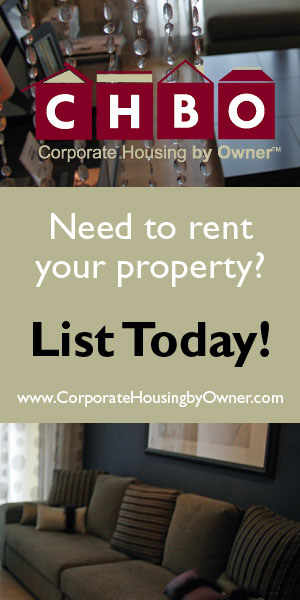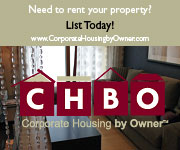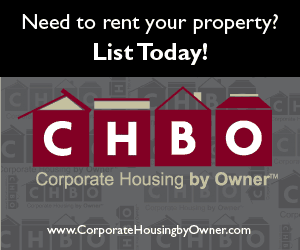 Affiliate Signup Process - Get Started NOW!