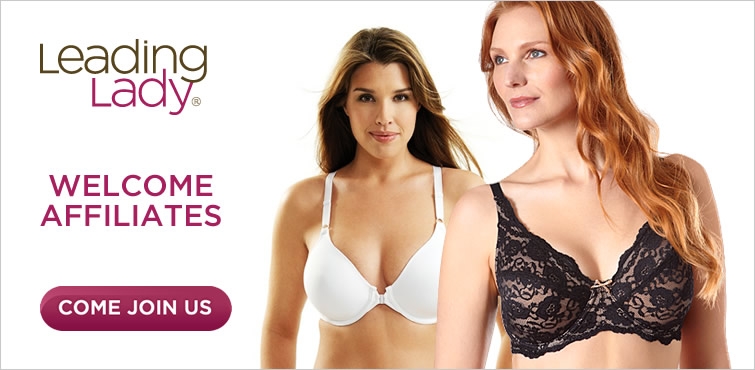 Welcome to the Leading Lady Affiliate Program!
About Leading Lady
Since 1939, Leading Lady, a premiere nursing and full figure intimate apparel company, has been dedicated to creating comfortably functional, remarkably affordable, stylish and easy-to-wear bras, camis and sleepwear. Featuring quality lingerie designed especially to fit real women, Leading Lady instills confidence from the intimates – out!
For more than 70 years, Leading Lady has expertly manufactured nursing and full figure bras for top brands and retailers across North America. Now, Leading Lady's comprehensive line of quality nursing and full figure intimates can be purchased directly online at LeadingLady.com, making it easier than ever for women to find their style and fit for an exceptional value.
Designed especially for new and expecting moms, Leading Lady's nursing intimates provide excellent coverage, support, and easy access, with stylish and comfortable fit. The nursing collection (available in sizes from 34B to 48 F) takes moms from morning to night and every activity in between. From pregnancy through breastfeeding, Leading Lady's family of designers and experts are dedicated to outfitting new moms with the support they need to nurture their babies.
Leading Lady's full figure collection celebrates curves and helps women achieve their perfect fit. This essential wardrobe of wirefree and underwire bras for everyday, sport, lounge, special occasion and more is available in sizes from 34A to 56G. Leading Lady's online shop features a unique fit calculator that helps women determine their correct bra size. This convenient tool and printable measuring tape allows women to spend less time worrying about fit and more time shopping for a variety of styles and colors.
A family owned and operated company, Leading Lady is proud to celebrate "Leading Ladies" everywhere through its products, programs and philanthropic activities. Leading Lady supports a variety of organizations and issues relevant to women across the country.
Program Payouts:
11% commission
12% commission on sales over $2000 per month
120 day cookie duration
$65+ AOV
4%+ Conversion Rate
Who Do We Approve?
We are open to many different types of affiliates such as:
Bloggers
Website / Content Affiliates
Emailers
PPC Affiliates
Shopping Comparison Sites
Review Sites
Coupon Sites
Datafeed Affiliates
Loyalty / Rewards Sites
Important Note: We do NOT accept affiliates who use adware, spyware, loyaltyware or any such software. Cookie Stuffing is also not allowed. Please read the terms and conditions of the program carefully to ensure you are abiding by our policies if approved.
What we look for when approving affiliates:
High traffic sites
Relevant website / content
Quality website design and functionality
Websites must be live unless otherwise stated in your application
All contact information is valid and available to our affiliate manager
Application Review Timeframes:
Please allow up to 72 Hours for your application to be reviewed.
You will receive an email notifying you of your approval or application rejection.
Should your application be rejected and you feel it should have been approved (keeping in mind the "what we look for" list above) please contact our affiliate manager at affiliates@leadinglady.com
Thank you again for your application. If you have any questions or concerns, please contact us directly at affiliates@leadinglady.com.

Leading Lady has teamed up with ShareASale to offer a simple affiliate signup process, so that you can begin earning commission payments from your website as soon as possible.


Otherwise, if you are new to ShareASale, please fill out the form below in order to join:


Please Note: Membership applications are reviewed by our staff for acceptance, and you will typically receive an email from us within 24 hours from the time that you confirm your application (by confirmation email). Our Membership Review Team will review your site for the following things in order to accept you into our network:
Quality site design
Top-Level-Domain (i.e., www.yourdomainname.com) (not required but recommended)
Website language (We only accept sites in English)
Prospective ability of your site to drive traffic to our Merchants
Disallowed sites include: Any illegal, porn, hate, etc... on your site, or on sites that you link to
Other misc. factors
Decisions made by ShareASale about membership applications are final, but you are free to re-apply if you wish in the future, should your application not be accepted. Please provide as much detail as possible when applying so that we can review your application accurately.
Affiliate Terms of Use